Pay Jumped 50% Year over Year for S&P 500 Healthcare HR Execs
REDWOOD CITY, CA (November 2, 2016)—The top human resources executives at S&P 500 companies were awarded more than $1.6 million at the median in 2015, slightly down from the median compensation of $1.7 million in 2014, according to a new report from Equilar, the leading provider of board intelligence solutions, and Allegis Partners, a global executive search firm.
While the overall figure has been mostly flat year over year, there are significant variations by sector. In particular, the healthcare sector—which includes biotech and pharma companies—awarded a median $2.3 million to their top HR execs in 2015, increasing from $1.5 million in 2014. That amounts to more than a 50% gain year over year. HR leaders at S&P 500 technology companies saw about a 15% gain, reaching nearly $2 million in total compensation in 2015. Meanwhile, the utilities sector awarded the lowest median total pay to HR executives in 2015, at $1.1 million, 28.8% lower than the median for the S&P 500 overall.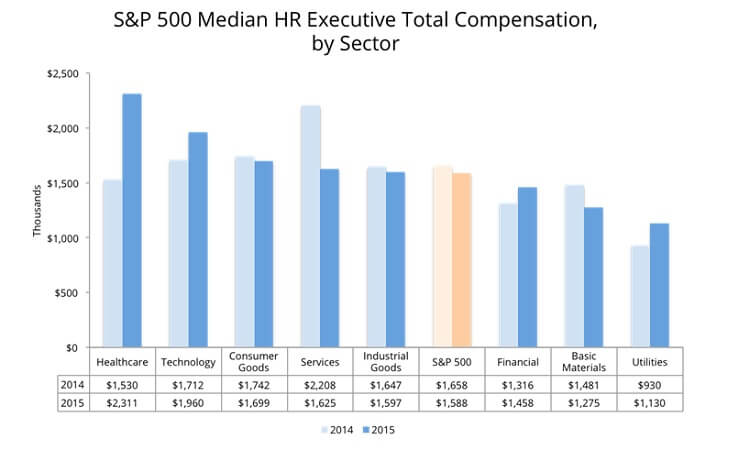 "While the healthcare industry has been changing for decades, disruptive change is now the norm and is accelerating at an unprecedented rate," said Mike Bergen, Managing Partner, Allegis Partners U.S. — Global Practice Leader, Human Resources. "Whether driven by legislation like the Affordable Care Act (ACA), or by enabling technological advances, this is a new fact of life for both payers and providers and has created new and exciting opportunities for HR executives in this field."
Overall, S&P 500 companies awarded a majority of compensation to their HR executives in long-term incentive pay comprised largely of company equity, at 56%, the report found. Notably, the two highest-paying sectors also had the largest compensation mix in long-term incentives (LTI). The technology sector offered nearly two-thirds of total compensation in LTI, mainly in stock and options, while 63% of total pay to healthcare HR leaders was in LTI awards. Meanwhile, the consumer goods and utilities sectors were the only sectors to pay a majority in annual cash.
"Long-term incentives motivate executives to stay in place and achieve company goals, and have come to dominate the C-suite's pay packages in recent years. Given the escalating strategic importance of HR leaders, the composition of their pay packages is aligning with other top managers as overall pay levels rise," said Matthew Goforth, Research Manager at Equilar. "The at-risk nature of incentives, however, means that the originally reported numbers may rise or fall with the stock price and ability of organizations to meet their goals, largely contrasting with cash paid out on a yearly basis."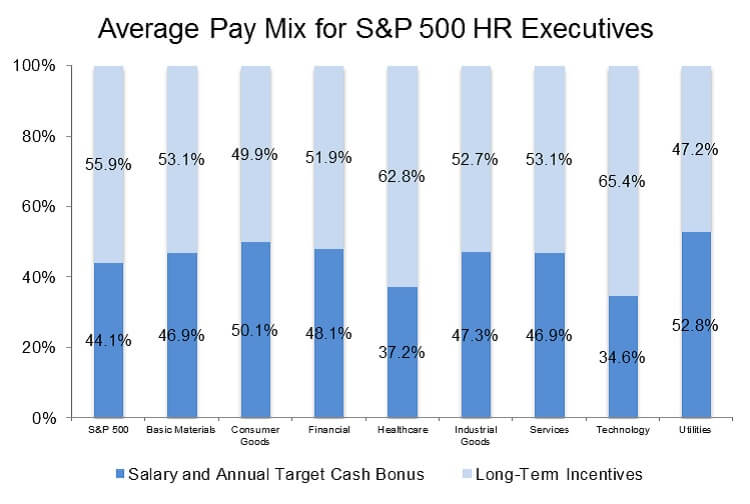 Furthermore, a significant portion—in most cases more than half—of all long-term incentive pay was delivered via performance-based incentives. Pay for performance accounted for the largest LTI component in all sectors, and the largest overall pay component in all but three sectors. The basic materials, consumer goods and services sectors each paid more in salary than in performance incentives.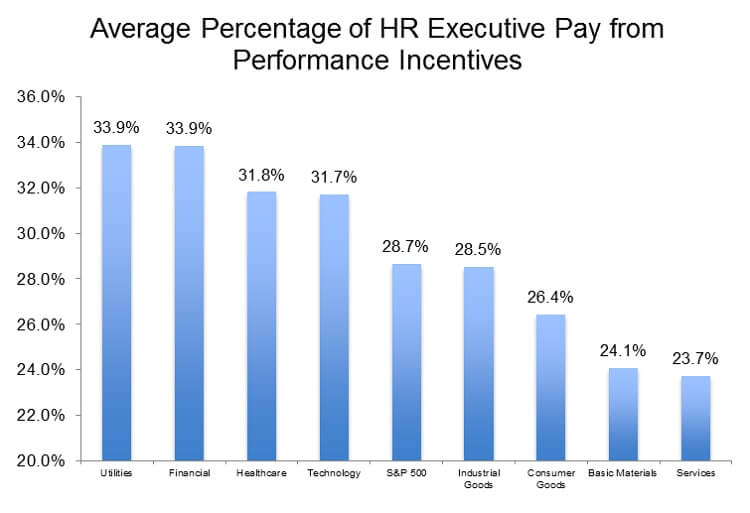 "Total HR executive compensation is aligning more with other C-suite roles—the demand for exceptional HR leadership that truly understands the business strategy and financials is very strong, and the supply is limited," added Mike Bergen. "CEOs and boards are raising the bar and becoming savvier about what they want in their HR leaders, so when they find it, they are willing to pay what is needed to attract and retain these leaders."
About the Report
HR Executive Pay Trends 2016, an Equilar publication, analyzes compensation data for the top-paid Human Resources (HR) executives at their respective companies who served the entire fiscal year, including 748 individuals for fiscal year 2014 and 706 individuals for fiscal year 2015. Proxy data was used when available, accounting for 275 executives in 2014 and 263 in 2015. The Equilar Top 25 Survey was used to supplement proxy data and accounted for 473 executives in 2014 and 443 executives in 2015. Proxy data was prioritized over survey when both were available for a given company. Collected according to SEC disclosure guidelines, Top 25 Survey data is blended together with proxy data to create the Equilar TrueView methodology, which is featured as the primary data sampling throughout this report.
The report includes additional TrueView analysis on S&P 500 companies by industry sector. The S&P 500 was chosen for this analysis to normalize by company size and type, and included a total of 204 companies in 2014 (including 48 from proxy data) and 212 companies in 2015 (including 53 from proxy data). Allegis Partners provided independent commentary to provide color and context to how companies recruit and compensate their top HR executives.
About Equilar
Equilar is the leading provider of board intelligence solutions. Companies of all sizes rely on Equilar for their most important boardroom decisions, including 70% of the Fortune 500 and institutional investors representing over $13 trillion in assets. Equilar offers data-driven solutions for board recruiting, executive compensation and shareholder engagement that bring together business leaders, institutional investors and advisors to drive exceptional results while ensuring sound corporate governance. The Equilar suite of solutions includes industry-leading board education symposiums, comprehensive custom research services and award-winning thought leadership. Founded in 2000, Equilar is cited regularly by Associated Press, Bloomberg, CNBC, The New York Times, The Wall Street Journal and other leading media outlets. Learn more at www.equilar.com.
About Allegis Partners
Allegis Partners is the global executive search firm that delivers a boutique, high-touch approach to talent management. With a focus on identifying diverse, top talent for Human Resources, board, C-suite and senior executive-level roles, Allegis Partners brings deep expertise and insight into each relationship, customizing each search within the global market to pair candidates with deep skill and knowledge to the unique needs of their clients. We're backed by the extensive resources and knowledge of the Allegis Group, a $11+ billion privately held global human capital organization. To learn more about Allegis Partners, visit www.allegis-partners.com.