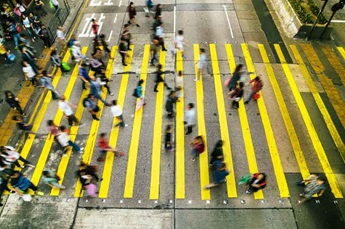 Awareness of diversity started to develop within the Asia-Pacific region in the early 2000s, but in the present day, understanding and application of diversity and inclusion in Asia still varies widely across the region.
Executive Summary
Companies in the Asia-Pacific region are increasingly aware of the importance of having diverse and inclusive workplaces. In contrast to the Western World, however, inclusion and harmony were the initial focus in Asia, while Western companies started down this road with an emphasis on making their workforces more diverse.
Even the meaning of the terminology can be a topic of debate. In some countries within Asia, diversity and inclusion as an expression and practice remains in the shadows, while in others, it is addressed under different names and translations. For example, Singapore-based companies use the phrase "fair employment practices," while the mention of "diversity and inclusion" in Japan or India suggests gender-focused ideas.
East vs. West
From the type of diversity targeted to the strategy taken, diversity and inclusion being practiced in Asia have traditionally been distinct from the Western model. Diversity and inclusion efforts for Western companies for the past two decades have slowly evolved from being focused almost exclusively on diversity to a more balanced combination of diversity and inclusion practices. Early on, companies concentrated solely on increasing the diversity of their workforce by the recruitment of more women, different races and different generations. What was learned was that diversity alone would not bring about a cultural change if there was not inclusion of the diverse employee segment.
At the same time, most companies in the Asia region have historically focused on inclusion and harmony in the workplace, instead of highlighting differences and celebrating the uniqueness of the individual—which are elements of a heavier focus on diversity. Asia companies seem to place a higher value on achieving balance between the different elements within the workforce.
Today, more diversity initiatives are being adopted by businesses in Asia, and the majority focus on gender. The most popular of these are flexible working arrangements, mentoring and family-friendly policies. A lesser number of companies, although still significant, address diversity of national culture or race/ethnicity. These categories are often merged together as race in Asia is often defined via national culture, with Chinese, Indian and Japanese seen as descriptions of race. Ethnicity describes people linked to the same national culture—linked together by their beliefs, values and history. There can be diverse ethnic groups within a culture, including some that are legislatively defined, such as in China with the Uygur. (Editor's Note: The Uygur are a Turkic ethnic group, mostly Muslims, living in the western region of China known as the Xinjiang Uygur Autonomous Region.)
A Business Necessity
A number of studies have shown that a proportion of diversity initiatives adopted within mature markets such as the U.S. and Europe have been brought about by legislation. Yet in Asia Pacific, there is a distinct lack of legislation focused on diversity and inclusion (with the exception of Australia). The catalyst for diversity within businesses is being led by business needs.
Mixed Progress
In spite of efforts of companies in Japan and India to support professional development for women, the average representation of women at middle and senior levels in these markets are the lowest in the region.
On the other hand, companies in Malaysia offer the shortest maternity leave and the least support to women in the form of women's networks, on-ramping support and professional development. Yet Malaysia performs well on all data points.
Companies in Asia Pacific that have implemented and continue to develop a diversity and inclusion strategy have designed these strategies in line with business cases that link diversity to the business mission and goal. These companies have linked their business strategy to human capital planning and have insight to how diversity supports their workforce requirements. Some view their adopted diversity strategy as a means to better servicing their diverse customers' needs.
More Driving Forces
Diversity and inclusion efforts are becoming more prevalent within Asia partly due to demographic influences, which impact the amount of human capital available for companies and the customers they serve. Women are increasingly entering the workforce, and the population is aging. These two trends are driving an expectation for more flexible work schedules.
Another key force for diversity to be implemented within some countries in Asia is the continued economic growth across the region, which has depleted traditional talent pools, forcing companies to look at those they previously ignored.
Increasingly, HR professionals within Asia are redefining human capital strategies to mirror the growing diverse talent pool. Considerable changes are expected that will impact HR policies, recruiting practices and potential career paths.
The following are some notable achievements in the Asia Pacific region that show recent progress in broad diversity and inclusion efforts.
In the majority of Asian countries the average representation of women at the junior management level is around 50 percent. Countries such as Hong Kong, Singapore, Malaysia and China have achieved 40 percent at middle management.
More companies are now achieving gender parity within their organizations, although this tends to be weighted to the less senior levels. Malaysia is an exception, having achieved gender parity at middle levels, with over a third of companies in Malaysia achieving the same at senior levels.
Even with the improvement in certain sectors and countries, the overall representation of women at middle and senior levels remains low across the Asia region.
A growing number of companies are creating an empowering environment for female staff. The majority of these companies now offer maternity leave, paternity leave and flexible work arrangements. Women's networks and professional development programs are also widely offered by companies within the region.
Increasingly, companies in Japan and India are offering more support to their working parents, plus professional development programs for women.
As you can see by the achievements highlighted above, while the approach to diversity and inclusion may be different in Asia than it is in Western countries, that doesn't necessarily mean that Asia is behind. It just means that companies in this region have traditionally focused on different aspects and used different terminology in this realm of talent management. While there are encouraging signs, it is important to keep in mind that there is still a lot of work to be done.
While diversity and inclusion may be approached differently in different parts of the world, we can all agree that the benefits of greater progress in these areas will be felt by individuals as well as companies, both in the present time and in the workplace that will be inherited by the next generation.