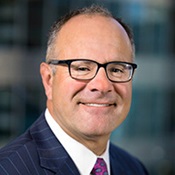 Hanover, MD (February 21, 2017) — Major, Lindsey & Africa, the world's largest legal search firm, and Allegis Partners, a global executive search firm, today announced the appointment of John Cashman as president of the two firms. In his new role, John will head strategic efforts to elevate the business of Major, Lindsey & Africa and Allegis Partners. Both are owned by Allegis Group, the global leader in talent solutions. Previously, John served as partner and vice president of law firm recruiting for Major, Lindsey & Africa.
"For the past 12 years, John has demonstrated a deep understanding of our business and a commitment to delivering outstanding results and developing top talent," said Andy Hilger, president of Allegis Group. "He has built his legacy to date as a champion within the law firm business, and I'm confident that John will quickly gain a deeper understanding of our other unique practices to heighten and improve their positioning as industry-leading brands as he has previously done with Major, Lindsey & Africa's Partner Practice Group."
John has a reputation for high performance and cultivating elite talent and has proven himself as integral to the firm. Since joining Major, Lindsey & Africa in 2005, he has risen through the ranks as a recruiter, manager and leader. Throughout his career, John has focused his practice on partner representation in the lateral market, practice group acquisition and firm mergers for diverse clients from top national and global law firms, regional U.S. firms and large public and private companies.
"The opportunity to lead a team of such passionate individuals, all committed to growing our premier brands and developing meaningful relationships with our clients, candidates and one another, is truly humbling," said John. "As I transition into the position, I'm committed to upholding the unique culture of inclusivity embedded in Major, Lindsey & Africa and Allegis Partners as we expand our efforts and further grow both firms' reach."
Prior to working at Major, Lindsey & Africa, John practiced law as an M&A partner in the Chicago office of Winston & Strawn LLP and served as a vice president at City National Bank in Beverly Hills, California. He holds a J.D. from University of Chicago Law School and a B.B.A. in Finance from University of Washington.
"John not only possesses a deep knowledge of our businesses, markets and clients, but he is also a dedicated and lifelong learner with the curiosity to drive continuous growth for himself and for those around him," said Simon Robinson, former president of Major, Lindsey & Africa and Allegis Partners. "Over the years, John has championed many of our key strategies and initiatives, and he will continue to develop our platforms to sustain success in the future."
About Allegis Partners
Allegis Partners is the global executive search firm that delivers a boutique, high-touch approach to talent management. We focus on identifying diverse, top talent for human resources, board, CEO and other executive and senior management roles across industries. Allegis Partners brings deep expertise and insight into each relationship, customizing each search within the global market to pair candidates with deep skills and knowledge to the unique needs of clients. We're backed by the extensive resources of the Allegis Group, an $11+ billion privately held global human capital organization. To learn more about Allegis Partners, visit www.allegis-partners.com.
About Major, Lindsey & Africa
Founded in 1982, Major, Lindsey & Africa is the world's largest and most experienced legal search firm. Combining local market knowledge and a global recruiting network, Major, Lindsey & Africa has earned recognition for its track record of successful general counsel, corporate counsel, partner, associate and law firm management placements. The firm also provides law firms and companies with highly specialized legal professionals on project, interim and temporary-to-permanent hire basis. With 25 offices worldwide, Major, Lindsey & Africa recruiters are dedicated to understanding and meeting client and candidate needs while maintaining the highest degree of professionalism and confidentiality. The firm considers every search a diversity search and has been committed to diversity in the law since its inception. Major, Lindsey & Africa is an Allegis Group company, the global leader in talent solutions.
To learn more about Major, Lindsey & Africa, visit www.mlaglobal.com.
About Allegis Group
Allegis Group is the global leader in talent solutions focused on working harder and caring more than any other provider. We'll go further to understand the needs of our people – our clients, our candidates and our employees – and to consistently deliver on our promise of an unsurpassed quality experience. That's the Allegis Group difference, and it's consistent across every Allegis Group company. With more than $11billion in annual revenues and over 500 locations across the globe, our network provides businesses with a comprehensive suite of talent solutions — without sacrificing the niche expertise required to ensure a successful partnership. Our specialized group of companies includes: Aerotek; TEKsystems; Aston Carter; Allegis Global Solutions; Major, Lindsey & Africa; Allegis Partners; MarketSource; EASi; The Stamford Group; and GettingHired. Visit Allegis Group to learn more.