NEW YORK (January 17, 2017) — Allegis Partners (AP), a global executive search firm, announced today that Lawrence (Larry) Krema has joined the firm as a managing director in the Human Resources Practice, where he will focus on identifying CHRO and other senior leaders for organizations as well as contributing to search projects across the broader C-suite. Larry has more than 20 years of human resources leadership and recruitment experience optimizing the structures and functions of HR departments within large corporations, and is well versed in developing talent management strategies that align with an organization's strategic directions.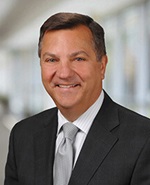 Prior to joining Allegis Partners, Larry was a managing director with executive search firm Ferguson Partners, where he led the Corporate Officers Practice and focused on filling CHRO, CFO, capital markets and treasury roles, as well as performing searches for C-suite executives and other senior business leaders for companies throughout the real estate and hospitality industries. Before that, he led human resources as global senior vice president of Human Resources and Corporate Operations for Simon Property Group, a leader in retail real estate ownership, management and development and an S&P 100 company.
"Larry's experience as both an executive search consultant and a strategic human resources leader together with his strengths in leadership development, management consulting and succession planning make him ideally suited to work with clients who are looking to attract and retain the best talent across all industries," said Mike Bergen, managing partner of Allegis Partners U.S.
Larry's human resources career began with leadership positions at retail corporations Macy's Department Stores, and The Limited. He then joined NEC Corporation, where he ultimately led the human resources division for North America. He then served as executive vice president of human resources for Equity Office Properties Trust and then as senior vice president of human resources for Lawson Products.
Larry received his bachelor's degree from St. Mary's University in San Antonio, TX, and attended Texas A&M University for his MBA. He is actively involved in various industry and professional organizations, including the Human Resources Management Association of Chicago. He was most recently on the National Board of NPH USA and is a past board chair of Anixter Center.
About Allegis Partners
Allegis Partners is the global executive search firm that delivers a boutique, high-touch approach to talent management. We focus on identifying diverse, top talent for human resources, board, CEO and other executive and senior management roles across industries. Allegis Partners brings deep expertise and insight into each relationship, customizing each search within the global market to pair candidates with deep skills and knowledge to the unique needs of clients. We're backed by the extensive resources of the Allegis Group, an $11+ billion privately held global human capital organization. To learn more about Allegis Partners, visit www.allegis-partners.com.